Turn Off The Red Light (TORL) is a campaign to end prostitution and sex trafficking in Ireland now. We are campaigning to criminalise the purchase of sex. Click here to learn more.
WHY TORL: Women and children are exploited in Ireland's sex industry. Some have been trafficked into Ireland in order to be made work in the sex industry. Very few women choose to willingly engage in prostitution. Most who are involved have had very few real choices.
          Some argue that prostitution is a harmless, commercial transaction between consenting adults. That women choose to become involved in prostitution and should have the freedom to do so. We refute this. Learn more about countries where the purchase of sex has been criminalised here.
WHY IT'S HARMFUL: Women involved in prostitution suffer severe physical and emotional harm from providing sex to multiple partners on a daily basis. They are vulnerable to sexually transmitted infections, and to violent attack and the threat of violence.
         They often live under the control over those who run the prostitution agency, and do not know to whom they are expected to provide sex, or what might be demanded from them at any moment. This can lead to extreme isolation and a sense of shame.
         Watch the daughter of a survivor speak out about how prostitution impacted her family and about what it felt like to have this experience as a young girl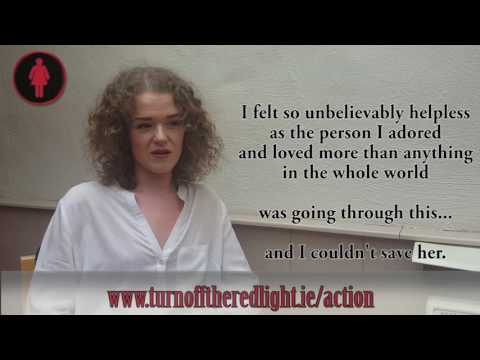 MYTHBUSTERS: Learn more about the myths and facts of prostitution here.
ADDITIONAL INFO: The campaign to "turn off the red light" is being run by an alliance of Irish non-governmental organisations. Learn more here. Download our leaflet here
__________________________________________________________________
HUMAN TRAFFICKING IS A FORM OF SLAVERY
IT IS HAPPENING IN IRELAND. LET'S END IT NOW.
BE VIGILANT, CALL 1800 25 00 25 OR EMAIL BLUEBLINDFOLD@GARDA.IE
EDUCATE YOURSELF ABOUT THIS CRIME, VISIT http://www.blueblindfold.gov.ie/